Pneumatic Nomadic
Experiments in material and construction.
Pneumatic Nomadic
Materiality Studies
Date: Spring 2016.
Location: Honolulu,HI.
Advised By: Lance Walters.
Group Project: Johnathon Quach, Riley Josephson.
Materials: Plastic Sheeting, Coffee.

This project was based around the idea of making a portable pneumatic shelter.







Concept
Pneumatic Nomatic is designed around making a sizeable portable pneumatic structure that can be folded down into the size of the singular box fan needed to inflate the structure.
The final structure measured around 25' tall and 35' long and was kept inflated by the pressure change from the inside and outside the form.
The structure was designed to have an interior outdoor space (the black poly sheeting) that split the single room into two separate programmed areas.
The pneumatic enclosure provided a smaller scaled section or sleeping comfort, a protected "hug-like" interior outdoor space, and an oversized meditative space. Inside the pneumatic, you can lightly hear the air circulation from the fan; all noise from outside is muffled and quiet. This pneumatic shelter sensory experience is like stepping into a white noise machine with soft, diffused lights.















Construction
Constructing the pneumatic shelter had to have quite a unique approach. The Rhino model was panelled out and laid out to fit multiple 10'x 50' pieces of poly sheeting. To keep accuracy as much as possible, I programmed a CNC Machine to operate as a pen plotter and engineered a way for the chuck to hold a Sharpie.
Once the pattern was mechanically drawn onto the poly sheeting, the pieces were cut out and connected by ironing them together. Melting the pieces together created a plastic airtight seel with no risk of tearing during inflation.










Team Member Jonathon Quach enjoying the fruits of our labour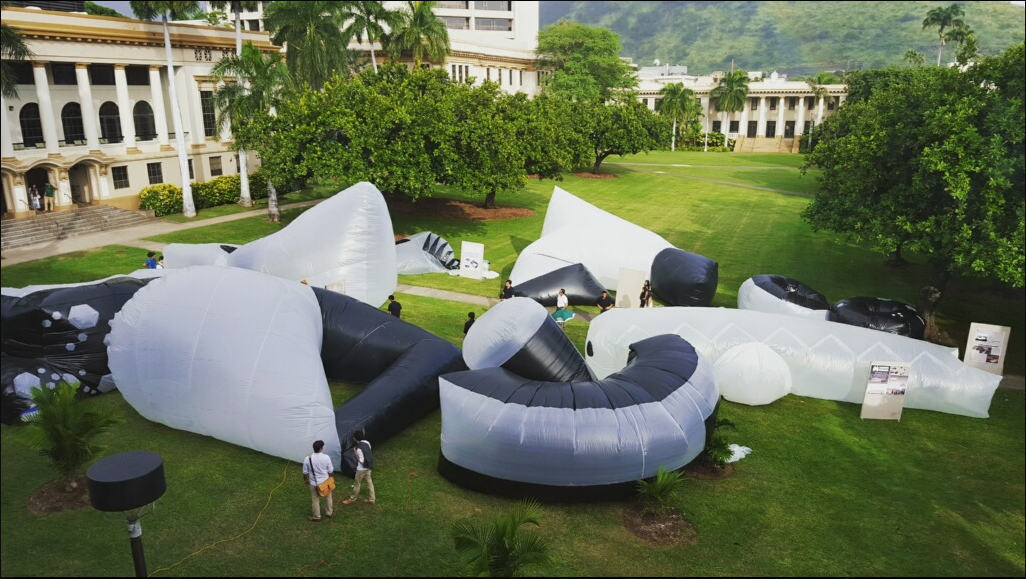 Field
The array of the class pneumatic projects populating the historical green at The University of Hawai'i at Manoa. The entire class Pneumatic Nomadic community.
Alternative materials can be used for architecture and create sensory spaces that wouldn't exist in the "everyday built environment".
CHLOE JENNY BENNIE. PROVIDENCE, RI. benniechloe@gmail.com